What a ride it has been. During the final round of topics for the past SPARK Season, the SPARK community passed with flying colors as they submitted some of their most creative and inspired works yet for the following Season 2.5 topics:
#Genre: Surely you've seen the new Sälen Jazz model, but now it's time to show us what a perfect Strandberg for another genre would be! Wheter it's photoshop, pencil on a coaster or chalk on the floor – any graphic representation is allowed (OK, real blood on the wall and likewise are excluded).
#Whereis*: You surely know "Where's Waldo", don't you? Build us a hidden object picture and hide something guitar-related, and don't forget to give us a hint on what to look for. Will we find it?
Here are some of our favorite submissions from Season 2.5!
Jeffery Bacus – #Genre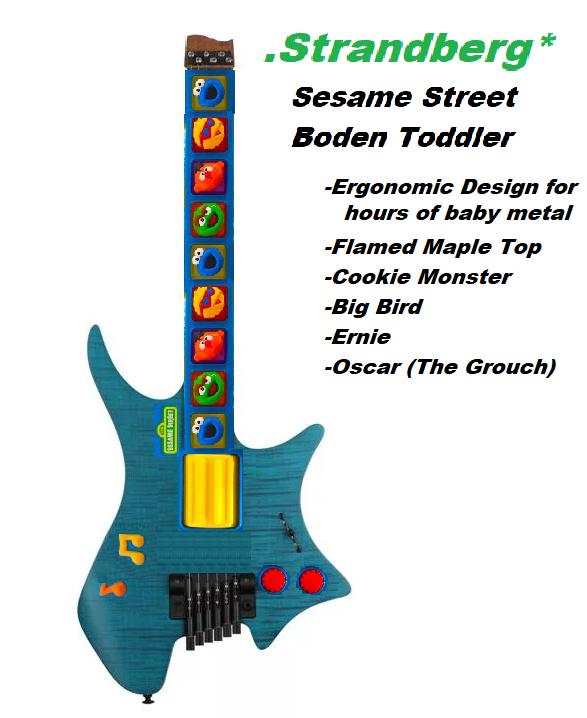 One of our favorite #genre submissions from the past Season, Jeffery Bacus created this incredible Sesame Street Boden Toddler toy guitar. The specs include the classic ergonomic Boden design for hours of baby metal, a flamed maple top (only the best for your kids), and the Sesame Street characters Cookie Monster, Big Bird, Ernie, and Oscar the Grouch. As Jeffery states, "Baby Metal (The genre, not that weird Japanese band)". We love everything about this!
You can see his submission on SPARK here.
James Dawes – #Genre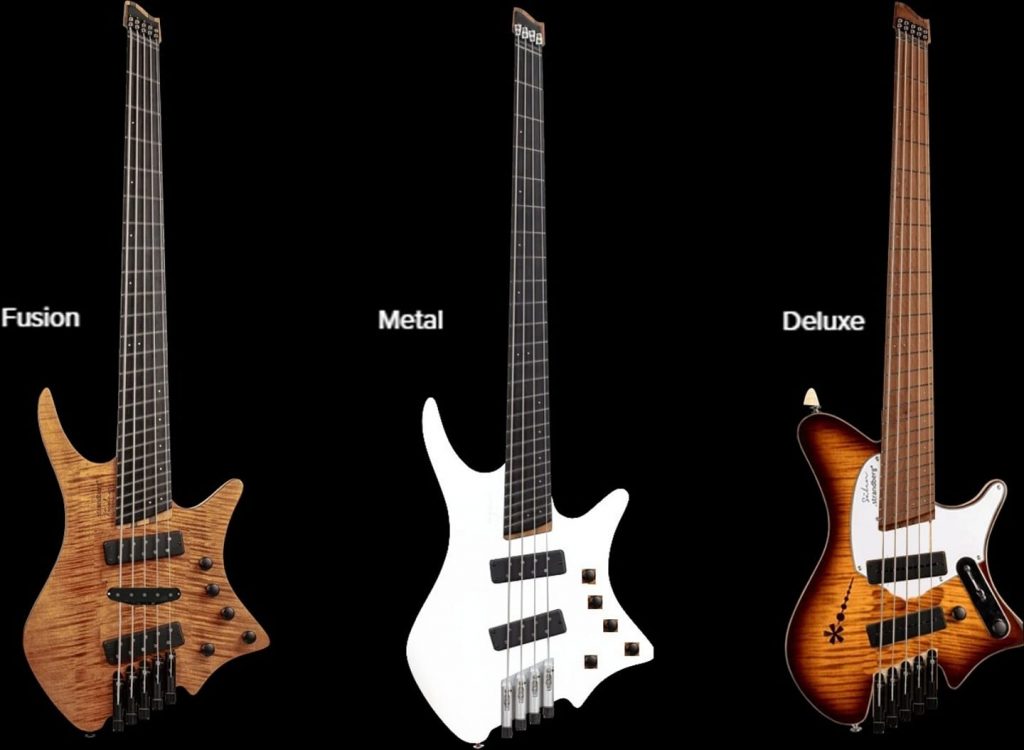 James Dawes went the bass guitar route and submitted this wonderful assortment of new designs for the #genre topic! Which one would be your weapon of choice?
From James:
"Let's send some love to bass! I mocked up designs for basses to fit in .strandberg*'s existing lineup, each specialized for their genre!
– Fusion bass: Neck and bridge pickups are moved closer to their respective locations to make it more tonally diverse, as well as a 3rd middle pickup, similar in spec to a 50s p-bass pickup, yielding a whole new world of tonal diversity!
– Metal bass: Covered in a jet white finish with an ebony fingerboard, this bass remains simple and elegant with active, higher output pickups than any other .strandberg* bass!
– Deluxe Bass: with great inspiration from its 6 string cousin, this bass boasts a semi-hollow design, with a flower-style soundhole and simple electronics. The hollow aspect allows this to be used whether plugged in at the barnyard or acoustically 'round the campfire!"
Learn more about his SPARK submission here.
Oliver Christian – #Genre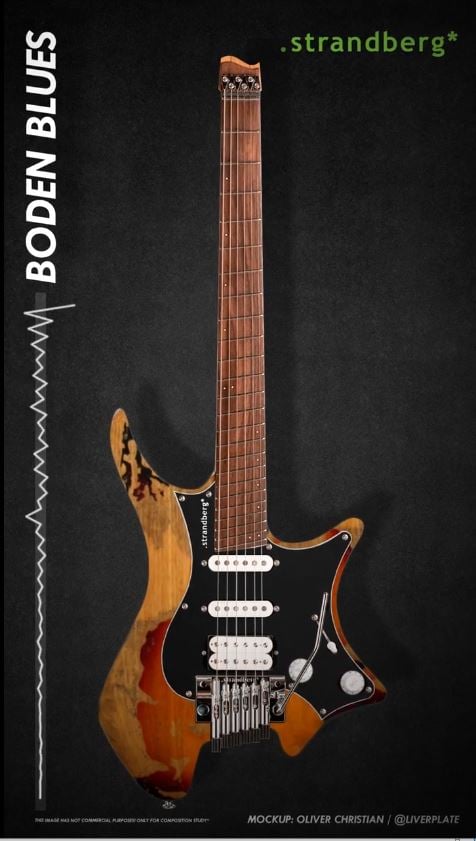 Oliver Christian created this stunning relic'd Boden Blues guitar for the #genre topic! Combining the classic vibes of a guitar that's been on the road for years of gigs with the futuristic Boden design, it's an incredibly unique instrument that hits hard on several levels. This image is from his video submission, so be sure to watch it via the link down below!
From Oliver:
"BODEN BLUES! Meet the bluesman inside you! I present you the perfect guitar for vintage, raw and classic tones. A road-worn guitar relic finish gives it the blues attitude & passion!"
Hear Oliver's submission on SPARK here.
Jeffery Bacus – #Genre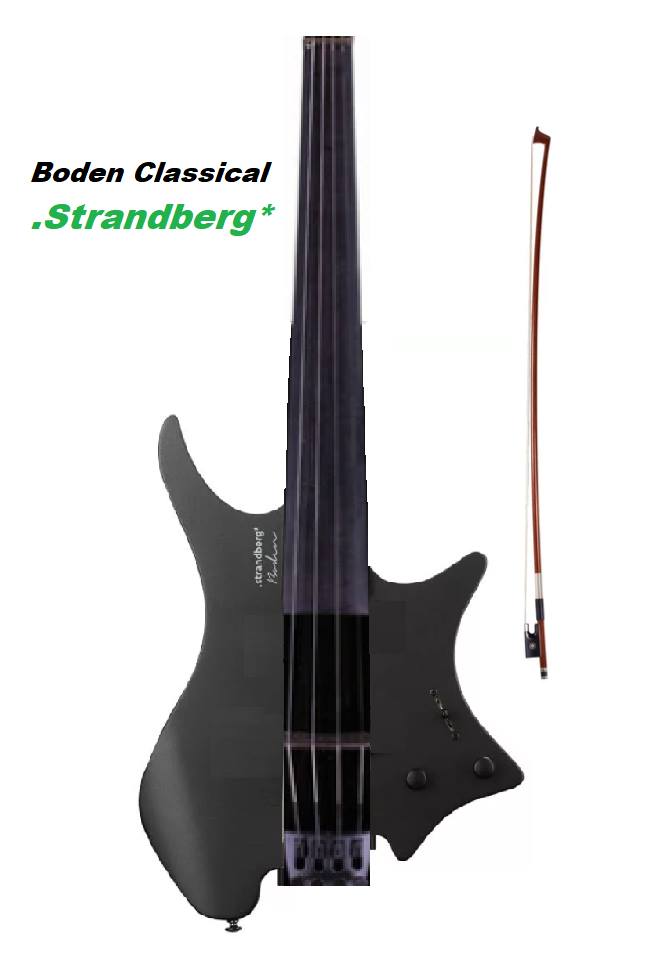 Another stellar contribution from Jeffery Bacus, he submitted this incredible Boden Classical upright bass guitar design! Complete with its very own bow to play with, the mere thought of a cello-sized Boden might not be the most "ergonomic" concept, but it is indeed a very intriguing one.
You can see his submission on SPARK here.
Sebastian Wieauchimmer – #Genre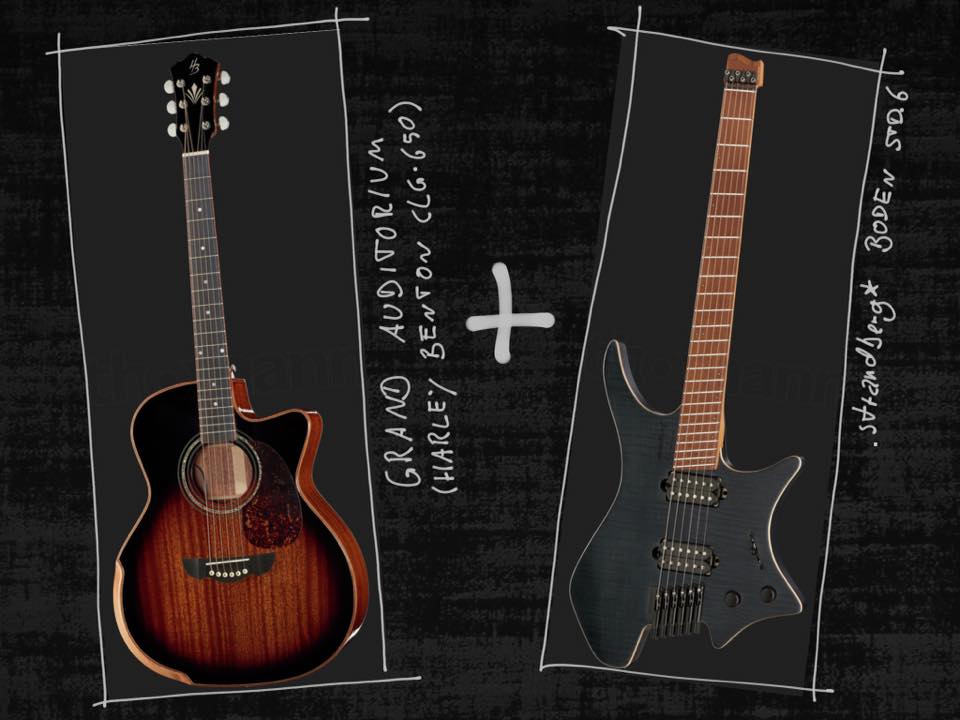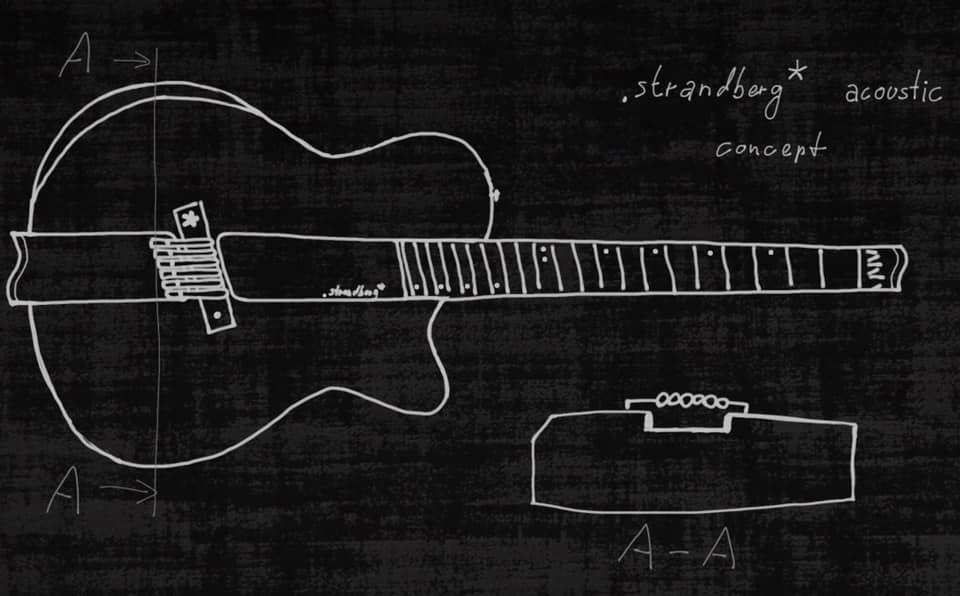 A feat of modern engineering, Sebastian Wieauchimmer created this mock-up of what could potentially be the first acoustic .strandberg* design! His thought process is just as fascinating, as you can see below. Well done, Sebastian!
From Sebastian:
"The idea of an acoustic .strandberg* just kept me awake for some nights. The major problem when combining the headless tuners with an acoustic guitar body is the accessibility of the tuner knobs. When you mount them at the edge of the body the string vibrations won't be transferred to the top well, so I thought of a way to position them at the right place and also keep the accessibility good. I came up with the concept of a recessed center part of the top, which would give access to the tuners (behind the bridge) and function as a soundhole (slot between the top and the recessed part, between bridge and neck). For the concept, I combined my two favorite guitars – a grand auditorium acoustic (Thomann "Harley Benton CLG-650", great guitar by the way) and of course, my .strandberg* Boden Standard 6. I like the GA body, as it's more elegant and ergonomic as e.g. a dreadnought. I also like the bevel for the right arm which makes playing much more comfortable. Of course the acoustic .strandberg* would feature the EndurNeck and a fanned fretboard (Imho 21 frets should do for an acoustic) and a Fishman piezo and preamp. A 7- or 8-string version would be great, especially for solo artists! Just scribbled the concept down on my iPad, hope I'll find the time to put it in 3D-CAD (and perhaps do a 3D print like the Madeira to test the ergonomics)."
You can read more about his SPARK submission here.
Christopher Robbs – #Genre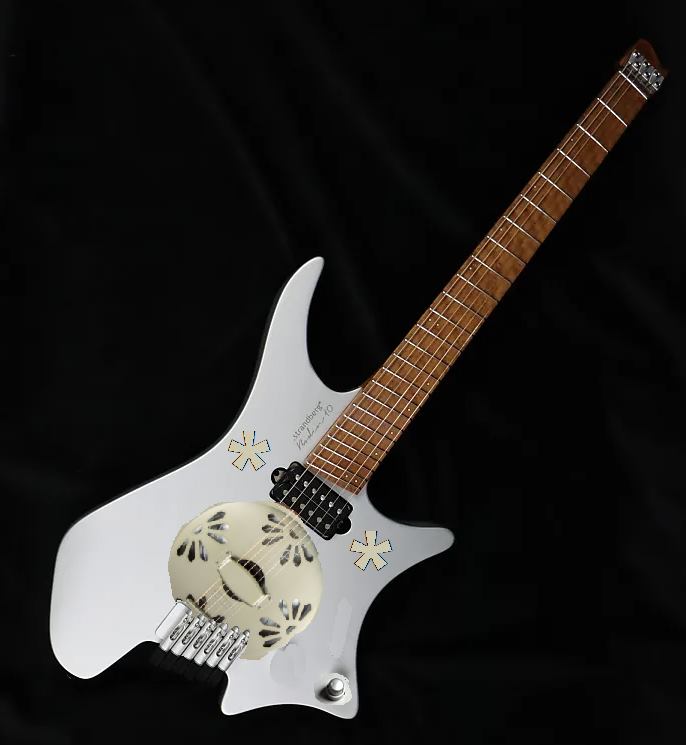 Christopher Robbs submitted this "Sälen Delta" guitar-banjo design as part of the #genre topic, and we love the creativity here! Would you play something like this? Check out his thought process on designing it below.
From Christopher:
"The Sälen Delta utilizes the additional bracing a resonator cone provides to anchor the EGS Series 5 fixed bridge and a pair of * shaped soundhole screens providing an ergonomic unplugged Hollowbody experience like no other. Take it from the porch to the barn with a custom-wound .strandberg* humbucking pickup and stacked volume/tone pot."
You can learn more about Christopher's SPARK submission here.
Aldino Putra Inando – #Genre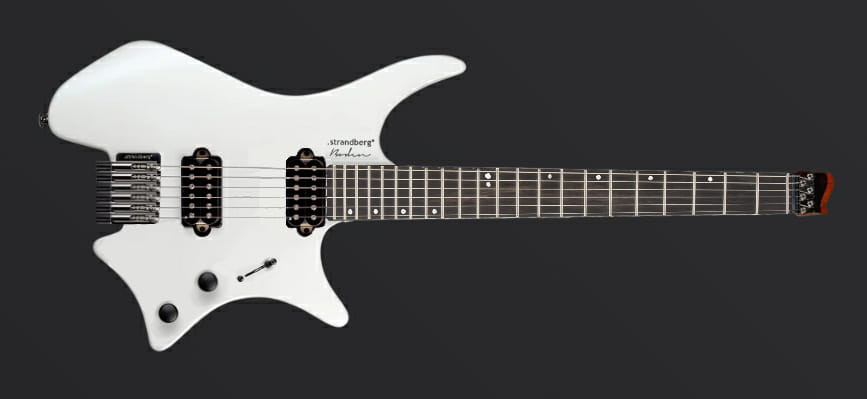 Aldino Putra Inando submitted this highly original Boden Grunge guitar design for the #genre topic! While there is currently no official grunge-related .strandberg* instrument, this Boden Grunge mock-up hosts several grunge-specific features, making it the ideal instrument of choice for the genre.
From Aldino:
"- Straight 25.5″ scale 'cuz multiscale is too mainstream
– Hardtail bridge 'cuz tremolo is too good for rough playing
– The placement of the volume knob and the switch is changed a little bit to give more space for hard-strumming picking hand
– 22 frets 'cuz that's all we need
– Any color is fine, if it's ready to rock then it's ready to rock
I can see one particular blonde grunge frontman playing this thing during the early to mid-era of his band ?"
Check out his full SPARK submission here.
Martyn Lopez – #WhereIs*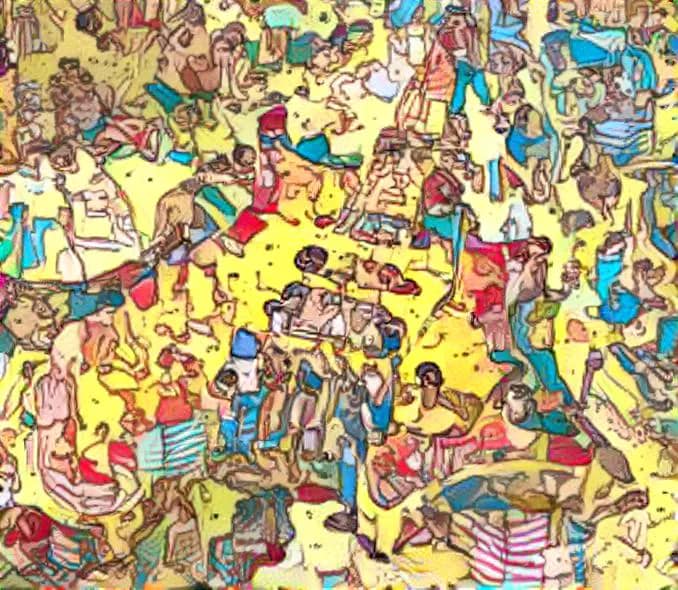 For the #whereis* topic, Martyn Lopez created this incredible AI-generated "Where's Waldo"-inspired piece of Boden artwork! While you may have the urge to zoom in and see where the Boden is hiding, the answer may pop out to you if you move further away.
From Martyn:
"kicking things off by using an AI program to manipulate a classic where's Wally scene. Can you find the Boden?? All the people in the scene appear to be dismembered too! ??"
You can check out Martyn's SPARK submission here.
Oliver Christian – #WhereIs*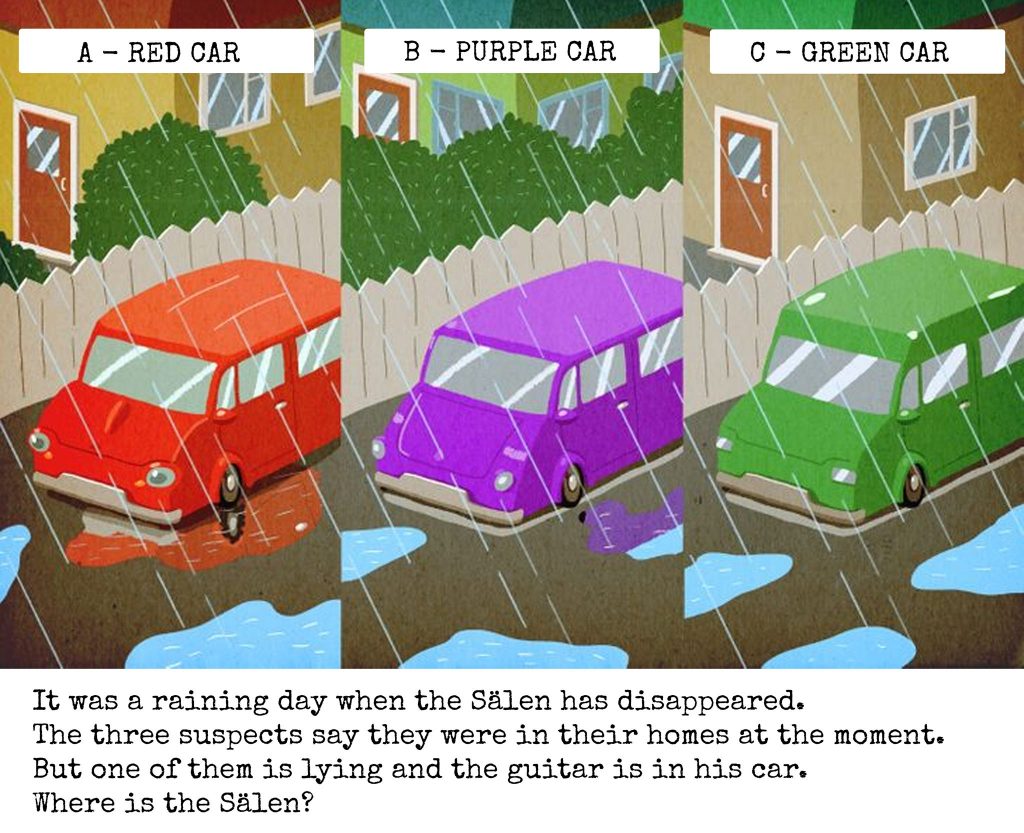 Another killer submission from Oliver Christian, he created this #whereis* puzzle to put your detective skills to the test! Follow his instructions and see if you can find the missing Sälen.
From Oliver:
"You're a detective! Help to solve this case and find the Sälen.
NOTE: This is a logic problem. You will only find the guitar if you solve this. Do not try to find it in the image!"
Do your best and post your findings on Oliver's post here.
.strandberg* SPARK is the official Facebook group of .strandberg* Guitars, dedicated to finding new ways to be creative via prompts that are announced every two weeks. You can learn more about SPARK and join the community here.