In this fifth installment of our How to series we aim to ease the difficult task of choosing the right .strandberg* guitar. Let's begin by thanking you for your interest in our products, which is likely the reason that you're reading this article. While the reasons for acquiring a .strandberg* may be unique to every player, we feel that there are a few things worth mentioning that makes our instruments different from many others on the market.
Every part of a .strandberg* instrument is designed for performance, ergonomics and ease of playing – Even though many aspects of our instruments are unconventional in nature, none of the features of a .strandberg* are there only for looks. The only reason for the unique appearance of our products is that the sum of our different solutions to different problems happen to look that way. Functionality is the driving force behind every product we make.
The EndurNeck – The proprietary .strandberg* EndurNeck is designed to promote a straight wrist angle and utilize the strength of your body in a way that prevents hand fatigue and injury.
Headless design and low weight – Taking away the headstock is the most efficient way to reduce the weight of a guitar or bass. In fusing the bridge and tuning keys together in one unit, a noticeable amount of wood and metal can be removed from the neck. Combined with carefully selected woods and body construction, this makes for a well-balanced, supremely low weight instrument.
Multiscale design – Utilizing a multiscale construction makes it easier to achieve a good tension, tone and playability on each string compared to traditional straight scale instruments.
Specialized hardware – All hardware found on our instruments is specifically designed for them and can't be found on any other products on the market. The design and choice of materials ensures low weight, precision and strength.
Let's continue by a presentation of each product line, it's unique features and who the typical player might be. Which model has the tone you desire? Which one has the functionality you need? What are the benefits of choosing one particular model over another? Please join us in this voyage through the current .strandberg* instrument lineup and have your questions answered.

Original series   
The Original series guitars are the current incarnation of the original .strandberg* design. Their chambered Swamp Ash bodies coupled with Flame Maple tops, roasted Maple necks and roasted figured Maple fretboards not only equal low weight but also help to create an instrument with a pronounced high midrange and treble for a clear and articulate sonic delivery. The response is fast and precise with impeccable note separation of chords.
All 6-string Original series guitars come with passive American made Suhr SSH+ and SSV humbuckers that further promotes clarity, punch, gain and sustain. The wiring of these guitars is designed to give the player access to the most characteristic and useful humbucker and single coil tones possible from a dual humbucker pickup configuration with the warmth and dynamic response of the highest quality passive pickups.
7 and 8-string models in the Original lineup are identical to their 6-string counterpart in terms of materials used but differs in their respective adapted scale lengths and choice of pickups. Fishman Fluence modern humbuckers are used to deliver the extended range impact of these instruments and present the player with a plethora of high-quality tones on behalf of their unique active design. The benefits of an active pickup design have long been recognized in the extended range guitar community where clarity and noise free performance is commonly of the highest priority. Fishman Fluence pickups represent the cutting edge of active pickup design and is the perfect companion of our Original series 7 and 8 string guitars.
Who is it for? The player seeking a guitar with exceptional clarity, attack and note separation while reaping the benefits of the widest tonal variation possible with a dual humbucker pickup configuration.

Prog series   
Our Prog series is a close relative to the Original series and shares the same basic construction apart from the Ebony fretboard and the fact that all models in the series come equipped with the EGS series 5 tremolo system.
The choice between an Ebony or Maple fretboard is to many players purely an aesthetic one. These two families of woods are tone wise close to one another on behalf of them being hard and dense woods which gives the instrument a clear tone with lots of brilliance. If compared under optimal circumstances, Ebony is often found to have a slightly more open tone with pronounced higher treble where Maple instead focus its tonal energy in the lower treble frequencies for enhanced attack and articulation. The feel of these woods is also quite different as Ebony commonly has a very smooth and almost glass-like surface while Maple is slightly more textured. As a part of this series of guitars, the Boden Plini Edition possess the same expressive features, tone and feel, but is complemented with an Australian Blackwood veneer top and a slightly different control layout and electronics configuration.
The pickups found on the Prog series guitars are the same Suhr and Fishman Fluences modern humbuckers as found on the Original series guitars. Concerning the Fishmans, you may notice that the ones mounted on the Prog 7 have a different form factor, look and positioning compared to the Original 7. These pickups are technically the same, but with a different look to them. Angling the pickups will yield a slightly snappier tone on the low strings, while a straight positioning will add fatness to the same.
Who is it for? The expressive player demanding versatility, clear and defined tone, the possibilities that a floating tremolo bridge has to offer and the look and feel of an Ebony fretboard.

Fusion series   
The Fusion series is designed with the all-round musician in mind. The chambered Alder body promotes a more even sonic delivery compared to the Original and Prog with a warmer midrange without sacrificing clarity and definition. Being the only .strandberg* model to feature a HSH pickup configuration, the Fusion is also capable of a combined set of pickup positions not available in any other of our product lines.
The Fusion line of guitars come equipped with our EGS series 5 tremolo systems as well as the same American made Suhr humbuckers as found in Original and Prog with the addition of a Suhr V60LP single coil pickup in the middle position. The exception is our Alex Machacek signature model which come equipped with American made Suhr DSV+, DSV and V60LP pickups. Compared to the Suhr SSH+ and SSV, these have lower output, less compression and a softer attack. Despite all pickups being passive, every pickup position on all Fusion guitars are noise cancelling.
From 2019, the Fusion line is available with either .strandberg* traditional bolt-on or neck-thru construction. The choice of construction is not a choice of what is best, but instead a choice of what is best for you. The bolt-on Fusion with its Pao Ferro fretboard has a rapid response with excellent note separation and a vocal midrange, while the NT models with their roasted figured Maple fretboards have improved high fret access, more sustain and a thicker, punchier tone.
Who is it for? The all-round player who desires an even sounding instrument as a platform for expression while also benefiting from a profoundly versatile pickup configuration and a highly functional tremolo system. Choose the bolt-on version for clarity, articulation and imitate response and the neck-thru version for improved high fret access, sustain and thickness of tone.

Metal series      
The metal series is designed to deliver a wider and fatter sounding .strandberg* with emphasis on the lower midrange for a full frequency response. A chambered American Basswood body coupled with a Maple top is a good recipe for hi-gain impact and control while the Ebony fretboard gives a sleek look and feel to these guitars. For added reliability, all instruments in the series come fitted with hardtail bridges.
These guitars come equipped with active Fishman Fluence modern humbuckers which are particularly well suited to deliver the range of sounds required for modern heavy music. Don't be fooled, though. These guitars are capable of so much more than just Metal music and are highly suitable to any player who desires a bigger sounding guitar to occupy a greater space in the mix. The specifications of all guitars in the series are identical apart from the adapted scale lengths associated with our 6, 7 and 8 string guitars. The stunning Sarah Longfield signature models have all the same features as our other Metal series models apart from her own unique Black Doppler gloss finish.
As with our Fusion series, the 6 string Metal series guitars are, starting from 2019, available with either bolt-on or neck-thru construction. The Metal NT shares most properties with the bolt-on version except for the chambered body wings being constructed from Alder instead of American Basswood for a slightly tighter and more open sound given the chosen construction.
Who is it for? The player seeking a big sounding guitar with the famous .strandberg* clarity and a deep, commanding musical voice no matter the style of music. Choose the bolt-on version for a wide, high density sound with rapid attack and the neck-thru version for improved high fret access, sustain and punch.

Classic series   
Our classic series represent the more traditional side of .strandberg* while reaping the benefits of supremely low weight and unparalleled ergonomic features. These solid body Alder or Swamp Ash guitars deliver classic balanced tones in spades on account of their custom American made Suhr T style or specially designed .strandberg* OEM Alnico 5 pickups.
Within the Classic series there are two distinct body types available to cater to the needs of vintage oriented, future embracing guitar players. The versatile Boden Classic is available either as a 6 string guitar with Tremolo, HSS pickup configuration and Pao Ferro or roasted Maple fretboard or as a 7/8 string with a fixed bridge, dual humbucker setup and roasted Maple fretboard. The Sälen Classic is the .strandberg* take on an American single cutaway legend where twang is king curtesy of its specially designed Suhr single coil pickups and choice of Pao Ferro or Roasted Maple fretboard.
The solid body construction of these guitars promotes attack and give a focused tone slightly different from the richness and tonal complexity found in most other .strandberg* guitars. Not better nor less so, only different. The sound of a Classic equipped with a Pao Ferro fretboard is a tad warmer in the midrange while a Roasted Maple fretboard accentuates brightness and attack. In the case of our Sälen Classic guitars, a solid Swamp Ash body gives the guitar a midrange scoop with rapid response and noticeable clarity, while a solid Alder body gives a tastefully balanced tone with more presence in the midrange. How is it possible that these solid body guitar are roughly equal in weight to their chambered body siblings? By carefully selecting the body material and routing patterns, we're able to preserve a low weight body on our solid body models.
Who is it for? The player found of traditional American bolt-on guitars who desires an instrument with low weight and favourable ergonomics while residing in a sonic territory where vintage and modern collide. Choose a Boden Classic for versatility with a balanced tone and a Sälen Classic for a no-nonsense guitar with unparalleled clarity and attack.

Deluxe series   
Our Sälen Deluxe line of guitars are closely related the Classic series in terms of feel, aesthetics and tonal heritage. Even so, there are notable differences that gives these guitars a voice of their own.
The chambered Alder and Swamp Ash bodies coupled with Maple tops gives these models a higher level of resonance and tonal complexity compared to the Classic models. When such a construction is combined with a set of custom American made Suhr pickups, the outcome is a guitar capable of covering a lot of musical ground with its well-balanced timbre and healthy level of bite. Depending on the finish chosen, the fretboard wood is either Pao Ferro or roasted figured Maple and the body wood is either Alder or Swamp Ash which help shape the tone is different directions. The Candy Apple Red finished Sälen Deluxe with Pao Ferro fretboard and chambered Alder body will deliver slightly warmer tones while the Vintage burst model with it's figured roasted Maple fretboard and chambered Swamp Ash body will instead give extra clarity and brilliance.
As you may notice, the Vintage burst finished version of this guitar also features a .strandberg* exclusive cutout to the lid, while the Candy apple red version does not. This difference is purely aesthetic and does have very little to no influence on the sound.
Who is it for? The player desiring a bolt-on, dual single coil guitar with low weight, excellent ergonomics that is capable of delivering clarity and twang as well as warmer, woodier tones.

Standard series  
This series embodies all the features that make a .strandberg* feel, play and sound like a .strandberg* at a noticeably lower price compared to the majority of our other instruments. These guitars feature a solid American Basswood body topped of with a full thick Maple top as well as a Flamed Maple veneer for glorious looks. Instead of roasted figured Maple, the necks are constructed from roasted Plain Maple of the same quality and integrity as its relative for unchanged reliability, tone and feel. Despite these guitars being solid body constructions, the famously low .strandberg* weight is kept intact by careful selection of body materials.
These instruments are not merely more affordable versions of their more expensive cousins, but do in fact have a set of features unique in the .strandberg* lineup. The full and smooth frequency response of a solid American Basswood body with a Maple top together with a roasted Maple neck and fretboard gives these guitars a tone that bear resemblance to our Original, Metal and Classic series guitars all at once. Too boot, the Standard series is the only .strandberg* product line where it is possible to choose between a tremolo or hardtail bridge for the 6 string models.
All guitars in the series come equipped with our own passive .strandberg* design OEM pickups which, to our ears, are up to par with the best of them. Clarity, versatility and punch are terms that describe these pickups well and the lineup consist of Alnico 5 equipped humbuckers and single coils for the 6 string models and Ceramic 8 equipped humbuckers for the 7 and 8 string models.
Who is it for? The player seeking a full yet tight, precise and balanced sounding guitar with trademark .strandberg* sound, look and feel without the need for the most aesthetically extravagant materials.

Still so many choices! How do I choose?     
The feeling is understandable and we totally get that it is difficult to choose the right .strandberg* when there are so many choices available. The decision should be made with tone and functionality in mind rather than aesthetics even though the look of the guitar should of course appeal to you as well. A guitar that's black and looks evil doesn't necessarily deliver the metal tone you desire and in the same way, a classic looking guitar is not necessarily the best choice for the clean or crunch tones in your head. There is no right or wrong when it comes to choosing your instrument, but there are a couple of things that are good to keep in mind.
The biggest tonal shaping tool is your fingers. Even though certain woods or pickups may have typical characteristics, the way you play guitar will be of far greater importance when it comes to tone. Played a certain way, an otherwise bright sounding guitar can turn mellow and the other way around. It is however important that the guitar produce a tone that is pleasing to you when you play it. The tonal impact of individual guitar properties rarely reach the audience, but your inspiration and comfort is something that everyone can hear! We firmly believe that instrument ergonomics and player comfort are the most important aspects of a guitar as they will allow your fingers to create sound and music.
Tremolo or no tremolo? When choosing a tremolo equipped guitar, one chooses a guitar with vast possibilities of expression, but also an instrument that needs more attention in terms of setup and maintenance. Moving parts will be more demanding when it comes to performing at their highest level and this is important to keep this in mind when choosing one's performance tool.
Active or passive? There are probably as many opinions on the subject of pickup construction out there as there are players. Some feel that different families of pickups have their own characteristics in terms of tone and feel, while other players think that the differences are more complicated than this. The reason for us choosing different pickups for different guitar models is merely the desire to achieve a specific tone for every model. The choice is not made on basis of the pickups being passive or active. That being said, there is something that one has to know about active pickups. "Active" means that they need power to operate. The circuit is activated by plugging in a guitar cable, so be sure to unplug the cable when the guitar is not in use to prolong battery life! On a final note, pickups are easily exchanged in the future if you so desire. You are in no way permanently stuck with the same set of pickups, which means that this should commonly not be the deciding factor behind your choice of instrument.
How many strings do I need? Only you can decide on the tonal range required to realise your artistic vision. There is no need to have the same number of strings as your sources of inspiration to make good music and you should always look to yourself to answer the question of how many strings are needed. If you play intricate compositions spread out over a wide tonal range, an 8 string guitar is the way to go. Is the same range needed to deliver solely the heaviest of riffs? Not necessarily. Do you want access to lower notes without sacrificing higher strings for lead playing? Perhaps a 7 string guitar is your best choice. If you enjoy the playability of a smaller neck and is content with the tonal range a 6 string guitar has to offer, then perhaps such a guitar, possibly with an alternate tuning, is the instrument that would work best for you.
All .strandberg* guitars can be setup with different string gauges and tunings within the boundaries of their construction. To be able to handle thicker strings and lower tunings, our 7 and 8 string guitars have progressively longer scale lengths compared to our 6 string guitars. A longer scale length only mean higher string tension and a brighter tone and not superiority of sound. You may prefer the tone and feel of another scale length with other strings in the same tuning. Even so, there are limits to how low or high a specific instrument can be tuned without sacrificing tone and functionality. Every situation is different in terms of string tension, tone, feel and intonation and the most important thing to do is to carefully choose strings and setting up the guitar in accordance with what you want it to do. Sheer willpower is not always enough to make a guitar perform the way you desire.
Welcome (or welcome back) to the exciting world of .strandberg* guitars!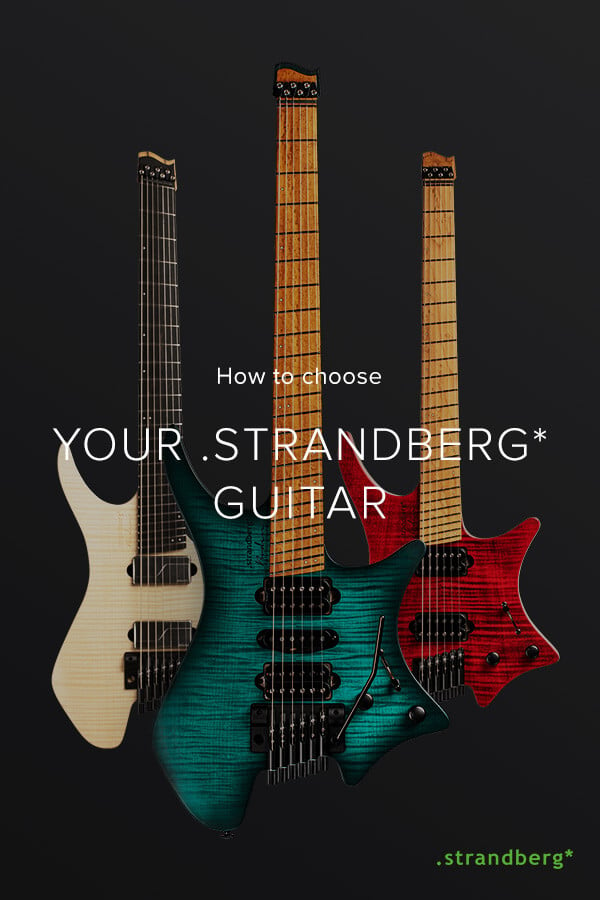 Pin this image to save this article.