What is this?
We want to test the roadworthiness of our new Boden Classic, so we want to send it on a journey around the world, and at the same time give our fans a chance to not only check it out, but to win a free guitar! This is also an experiment, to see if our player community can pull off a full lap of awesomeness around the globe without our involvement. We have teamed up with Burntaxe to create a truly epic one-of-a-kind guitar that can be yours!
The project starts 20th of June, 2017, with the guitar in Ola's office in Uppsala, Sweden. The objective is to complete a full lap around the world (detours are allowed) in either direction and then return it to Ola in Uppsala again. We are leaving it entirely up to the community of participants to manage the project without involvement from us.
How can I participate?
Join our Facebook group .strandberg* Journeys (opens in a new tab)
Find out where our traveling Boden is headed at the moment. If it is near you or heading your way, and you are yourself planning a trip somewhere, make yourself known to the community and organize a handover to you, and at the same time let people know when/where you are going so that the next handover can be arranged.
Do awesome things featuring the guitar! Only your imagination will set the limits – the key being that you have to get photos or videos of it (as with the traditional traveling gnomes, it may for example be in front of famous landmarks) and post the pictures in social media (Instagram/Facebook/Twitter) and in the Facebook group. Use (at least) the hashtags #gnomeboden #strandbergjourneys #strandbergguitars and tag @strandbergguitars
Hand over to the next person to send the guitar on its next epic adventure!
Who wins the guitar?
We hope to complete a full lap around the world by the end of 2017. At that time, we at .strandberg* will, along with you that have followed the project, determine who gave the guitar its most epic experience. This includes:
How epic was the footage of it?
How smoothly was the handover to the next player organized? (i.e. you shouldn't hang on to the guitar for more than a few days, you have to find someone that will take it further, in the general direction it is headed.)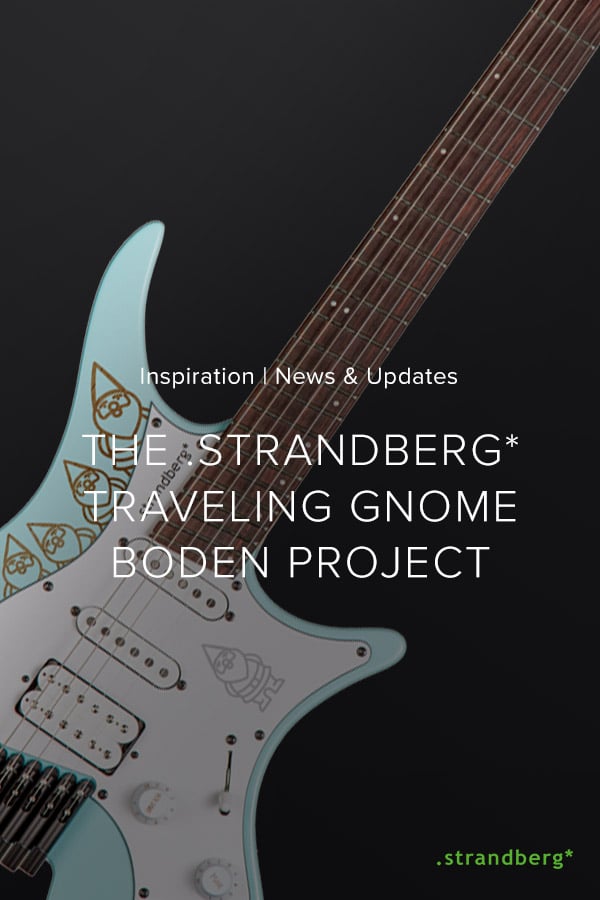 Pin this image to save this article.