Boden Prog NX 7 Twilight Purple Refurb
Boden Prog NX 7 Twilight Purple Refurb
These Boden Prog NX 7 Twilight Purple Refurb units may have some minor cosmetic/finish flaws but have been refurbished to otherwise perfect condition. Get 15% off on a great guitar for minor blemishes that do not affect the overall look, playability and sound whatsoever. Manufactured by PT Cort in Surabaya, Indonesia.
Aggressive and sophisticated, the Prog NX models are an extension of the Original model design with the new EGS Pro Rev7 Tremolo System and the smooth and slick-playing Richlite fretboard. With a more cutting tone than the Original, the Prog models are ideal for modern progressive and metal players using high-gain amplification systems. The versatile Fishman pickups and switching system provide a wide range of sounds for virtually any playing style and musical genre.
Also available in these finishes:
In stock
Your payment is managed by Klarna Checkout
Check out with only your email and ZIP, and pay with the major payment methods including the specific Klarna payment methods.
Klarna offers three payment methods: Pay now, Pay later and Slice it*. This allows you to try before you buy, finance purchases, or make use of other payment options made available by Klarna. Manage all your payments with the Klarna App.
For full information, please visit klarna.com
* Depending on your location or credit, only Pay Now may be available.
Delivery of guitars/large items is free* within the Continental US with FedEx Ground, and you will receive tracking information when the order ships. Smaller items ship USPS.
* Minimum order value of $100 applies
Customer Reviews
Write a Review
Ask a Question
Filter Reviews:
refurb
instrument
hands
guitar
experience
model
tone
shipping
pickup
dream
28 March 2022
David B.

US
First refurbed .strandberg*
I was blown away by the excellent customer service and follow up during the process. They provided updates and responses very quickly and then when the guitar arrived I was thrilled with the guitar. It's such a beautiful instrument and it plays like a dream. Once you have had an experience like this you will never go elsewhere!
11 April 2022
.strandberg* Guitars
Thanks for the review, David. We're glad to hear that you had an enjoyable shopping experience.
21 March 2022
Alex S.

US
My sixth strandberg is as perfect as the first
My sixth berg and second refurb. Can't find a single flaw front to back
22 March 2022
.strandberg* Guitars
Thanks for the 5 stars, Alex!
15 January 2022
Eric S.

US
Incredible Instrument
This is by far the nicest instrument I've ever had my hands on. Bought it refurbished and the only imperfection I could find was a tiny discoloration on the bridge pickup. It's flawless, and I can't wait to spend more time with it!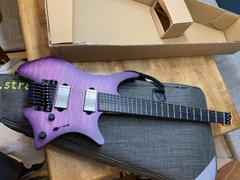 18 January 2022
.strandberg* Guitars
Thanks for the review, Eric! Great to hear that you're enjoying your refurbished Prog NX 7 Twilight!
26 December 2021
Brian B.

US
Wouldn't beelive it unless I played it...
This Quite possibly, the best guitar I have ever laid my hands on. Refurbished? No idea why. This guitar is perfect from finish to tone. This is my first seven string guitar. Bought solely based on word of mouth after talking with many guitarists. After searching the area, there were none of these guitars around to try out. I found myself on this website. Disappointed that the guitar I wanted was out of stock, I noticed the refurbished section. Now, I'm buying a guitar I've never tried, or heard in person, and it is "refurbished" no less. Sounds real smart, right? The best decision of my musical career. The guitar came packaged perfectly inside a box, inside a very well padded and accessorised gig-bag. I spent 10 minutes playing with bag and all its pockets before I opened for the guitar. Gig ready right out of the bag after a slight retuning. The pickups are unreal, responsive and both produce different tones that there is no denying which one you have dialed in. The feel of the guitar is indescribable. Ergonomically correct is an understatement. I have yet to find an uncomfortable way to hold this guitar. I also have some effect pedals that weight more than this guitar. So light. And so freaking fast! I was afraid of playing a bigger neck, but there is barely a difference in girth of the neck than my favorite 6 string. The neck is shaped to perfection that my thumb no longer strains, or gets sore, when I play for extended periods of time. If anything, my forearms are sore from playing the guitar so long! I requested that the guitar be shipped with a more secure way than the free shipping. The cutomer service and the shipping department got this guitar to me in 2 days, the week of Christmas. From CA to NY. And they still paid for a huge portion of the shipping. I was looking forward to the future of my musical career and my band, now that we are armed with this, I look forward to it even more knowing that every note I play is coming through crisp, clear, and with a nice edge to it that lets you know, we mean business. I would purchase this again, and even go on the waitlist, if anything every happened to this guitar. But it is so solid, any breakdown I forsee, will be my sloppy fault, not the guitar. Thank you!
27 December 2021
.strandberg* Guitars
Thank you for the review, Brian! I'm happy to hear that we could arrange a swift delivery, and that you are enjoying your Prog NX 7. Welcome to the .strandberg* family!
26 November 2021
Brock Y.

US
Amazing quality on a fine guitar
This is my second Strandberg, and it was not a disappointment. I was looking for a tremolo guitar when I found the twilight purple variant of the Prog NX model. It was beautiful; but sold out. Then I found it in the refurb section. Given there are no pictures of the item nor a description for why it's a refurb, I was a little apprehensive. But I decided to roll the dice, and it payed off. It arrived with no noticeable flaws. I'm not even sure why it was a refurb. All I can say is I'm incredibly happy with the product I received, especially given the listing for it. It plays perfectly as well. Came out of the box nearly perfectly in tune and required no set up to play.
30 November 2021
.strandberg* Guitars
Thanks for the review, Brock! Awesome to hear that you're enjoying your Prog NX 7 Refurb!