Boden Prog NX 6 Earth Green Refurb
Boden Prog NX 6 Earth Green Refurb
These Boden Prog NX 6 Earth Green Refurb units may have some minor cosmetic/finish flaws but have been refurbished to otherwise perfect condition. Get 15% off on a great guitar for minor blemishes that do not affect the overall look, playability and sound whatsoever. Manufactured by PT Cort in Surabaya, Indonesia.
Aggressive and sophisticated, the Prog NX models are an extension of the Original model design with the new improved EGS Pro Rev7 Tremolo System and the smooth and slick-playing Richlite fretboard. With a more cutting tone than the Original, the Prog models are ideal for modern progressive and metal players using high-gain amplification systems. The versatile Suhr™ pickups and switching system provide a wide range of sounds for virtually any playing style and musical genre.
Also available in these finishes:
In stock
Your payment is managed by Klarna Checkout
Check out with only your email and ZIP, and pay with the major payment methods including the specific Klarna payment methods.
Klarna offers three payment methods: Pay now, Pay later and Slice it*. This allows you to try before you buy, finance purchases, or make use of other payment options made available by Klarna. Manage all your payments with the Klarna App.
For full information, please visit klarna.com
* Depending on your location or credit, only Pay Now may be available.
Delivery of guitars/large items is free* within the Continental US with FedEx Ground, and you will receive tracking information when the order ships. Smaller items ship USPS.
* Minimum order value of $100 applies
Customer Reviews
Write a Review
Ask a Question
Filter Reviews:
guitar
instrument
Strandberg
neck
addition
bodies
headless
weight
playability
tuners
14 February 2022
Amy E.

US
Amazing guitar-Excellent quality
I purchased this for my son's 40th birthday. He is over the moon about it and says it is the best guitar he has ever had and plays beautifully
15 February 2022
.strandberg* Guitars
Thanks for the review, Amy! Awesome to hear that your son is enjoying his Prog NX!
13 December 2021
Louis F.

US
Boden Prog NX 6
It started like any other day; I came to the website to browse like I often do, because ever since my first Strandberg guitar I've been hooked. ...But the instruments are so compelling that the more I looked at this Earth Green Prog 6 NX Refurb, the less I could see myself without it! It's been a great experience from seeing it online all the way to receiving it in person (extremely quickly at that), and the instrument really is fantastic. I was online (as I remain now in person) very intrigued by just about every facet of the guitar. The Richlite fretboard feels slightly different from my previous Strandberg's Ebony board, but is no less impressive and complementary. The increased access to the upper frets with the new heel joint coupled with the new additions to the tuners and machinery make for an extremely solid and well playing guitar, and are exactly the upgrades I didn't know I needed. This is my first trem-equipped guitar, and it feels and responds as fluidly as I imagined with the Suhr pickups. I'm generally an active pickup guy, but I wanted something different and this bridge/neck combo find a sweet spot that delivers on the promise of familiarity along with newfound nuance. What drives it all home is that Earth Green, though. There's no escaping it, that's what called me from the get-go. It's not nearly as Lime green in everyday lighting, but is accurately an Earthy, natural looking green hue. As much as I am in absolute love with the overstated lime color I originally assumed it was, I'm no less infatuated with this gorgeous finish. Thank you for making this incredible instrument even more accessible and an invaluable addition to my rig!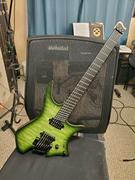 08 December 2021
John P.

US
STRANDBERG Guitars literally accommodate my every need, even my CHRONIC PAIN issues..I can PLAY again!!
I've been playing Neo Classical Fusion style/Shred/Prog Metal etc for over 45 yrs now (yes, I am old, lol) and I've not only played literally everything out there as far as guitar brands, but I also spent most of my life customizing, modifying, routing (monkey grips/batt comprts etc), thinning necks and scalloping fingerboards, reshaping bodies/headstocks and even custom graphic finishes repairs and top-notch setups as well. Everything I gained, as far as an ultimate "wish list" led to STRANDBERG >>> and that's only in regard to features, playability, tone, resonance, neck contour/shape, Body profile, fingerboard feel, and so on! >>> In addition, I suffer from lots of chronic pain and had barely even touched my guitars for many yrs now due to pain in thigh muscles sitting and pain in feet standing... the overall WEIGHT of a traditional guitar just caused pain within a few mins and eventually became "not worth it" to me. ***That is, until I started researching Headless light-weight multi-scale and specifically w/a trem :-) Anyway, this instrument's design (Prog NX) feels like I'm sitting up with almost no extra weight pushing down, and standing up is just as liberating!! The ergonomic neck took about 10mins amped to literally "Fall in Love" lol... the body shape allows the perfect playing angle and frees up my left hand big time! Neck sits in 1 of 2 perfectly angled positions and made me immediately realize how much better playing angle the Strandberg design offers, I'm literally selling all my other headstocked guitars, and since buying the Sara Longfield Boden Metal 8 (my first) >>> I now own the Metal 8, the Prog NX 6 arrived today, and the Prog NX 7 arrives tomorrow!! Haha... MERRY CHRISTMAS TO ME, Haha. I'm an overnight Strandberg Junkie :-O LOL. Once you allow yourself to warm up to the neck design it becomes addictive!! Especially with a great setup... WOW!! Such a uniquely designed, superbly crafted guitar!! Thank you, Strandberg.. I have the guitars I've waited all my life for!! Strandberg literally saved my passion for playing, I'm LOVING IT AGAIN!! VERY SATISFIED CUSTOMER!! m/
08 December 2021
.strandberg* Guitars
Thank you for the review, and for sharing your story, John. We're glad to hear that the ergonomic features of our guitars has helped you find your way back to playing again! Welcome to the .strandberg* family!
28 November 2021
Eric H.

US
Prog nx earth green
This guitar is amazing! It stays in tune for hours and is such a joy to play! Great work on the guitar guys! Definitely will not be my last strandberg guitar that I buy!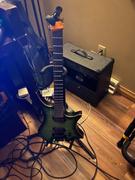 30 November 2021
.strandberg* Guitars
Thank you for the review, Eric! We're happy to hear that you're enjoying your Prog NX 6 Refurb!