Boden Singularity 7 True Temperament Red Swirl
Boden Singularity 7 True Temperament Red Swirl
A Boden model in its own category, the Singularity is unabashedly metal while providing sonic versatility with the .strandberg* OEM pickups voiced to meet Per's demanding specifications and cover a wide range of excellent sounds from sparkling single-coil clean to pulverizing over-the-top metal distortion.
This version, featuring the True Temperament™ Formula 1 fretting system, provides accurate intonation across the fretboard, for a louder, truer, and better sound.
Sold Out
Join the waitlist to be emailed when this product becomes available. Once back in stock it's first come, first serve.
Free EU shipping over €100
A unique Boden developed for the Swedish metal virtuoso Per Nilsson
The Boden 'Singularity'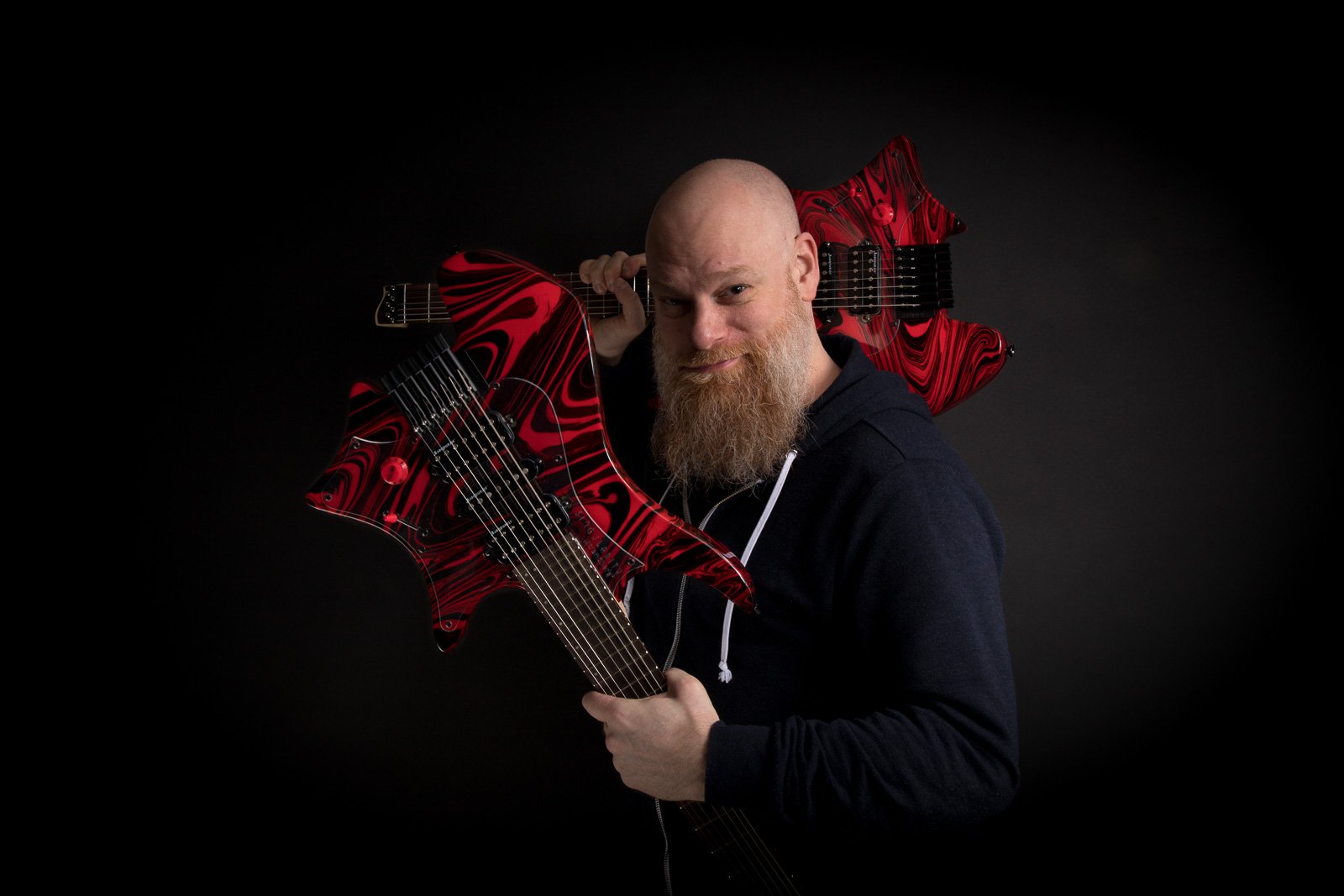 What makes it special?
What does it do?
Who is it for?
Swedish metal guitar virtuoso Per Nilsson is one of the most technically accomplished rock guitarists today, having won accolades for his work with Scar Symmetry and Kaipa as well as filling in for Fredrik Thordendal on Meshuggah tours. Fusing awe-inspiring technique encompassing rapid-fire picking, fluid legato and pummeling metal rhythm with a penchant for melodic playing and composition, Per is the consummate musician always seeking to expand the boundaries of metal and forge new grounds. Long-time close friends with Ola Strandberg, Per collaborated with Ola to design and develop the Singularity 7-string model which features Per's trademark swirl finish for a striking visual look as well as a versatile HSH pickup configuration with "conventional" (not multi-scale fanned) frets as well as the True Temperament frets option. Solid American Basswood body with Maple neck and Rosewood fretboard combine to deliver aggressive metal rhythm sounds with plenty of rich mids for Per's blistering lead work.
Check out with only your email and postal code, and pay with the major payment methods brought to you by Adyen.
You can choose to pay with the most common payment methods (VISA, Mastercard and Klarna) on all our websites.
We may offer local payment methods depending on your shipping country. You can see all the payments methods available for your specific country on the payment section of the checkout page.
All transactions are handled by Adyen international payment services. Your credit card number is sent to your bank via an encrypted connection. Adyen is fully PCI Level 1 compliant and monitored by Trustwave, an ASV and QSA for the Payment Card Security Standards Council. Adyen is registered and monitored by the Dutch Central Bank as payment institution under European Payment Service Directive (PSD, 2007,64/EC). As a principal member and licensed acquirer of Visa and MasterCard, Adyen also adheres to the schemes' operation regulations.
If you reside outside the European Union, e.g. in United Kingdom, Norway, Switzerland, or Iceland, you will be billed local import fees and duties by the shipping company, according to your country's legislation. For more information, see this support article.
*For UK customers the order value needs to be a minimum of £135. Read more in this support article.
Orders ship from Sweden, which means that within the European Union, there are no additional fees. If you reside outside the European Union, e.g. in Norway, Switzerland, or Iceland, you will be billed local import fees and duties according to your country's legislation. For more information, see this support article.
Delivery of guitars/large items is fast and free* with DHL Express with On Demand Delivery, which lets you monitor and direct your shipment once it is on its way. Smaller items ship with Swedish Postnord.
* Minimum order value of €100 applies
Unique Qualities
Anatomy of a Strandberg
There are many design elements and factors that comprise a .strandberg* guitar. Each aspect - from the materials and components used to the ergonomic design features - has been carefully thought out and implemented to produce a guitar that is light weight, easy to play and has a big woody organic sound. Explore these different aspects that set a .strandberg* guitar apart from the rest.
Artist Profiles
What our artist say
The extremely talented artists who play .strandberg* guitars have a clear vision of where they want to take their art and how to get there with the instruments they play. The guitar they choose to play is a statement of who they are as an artist and a reflection of the music they create. Find out why some of the most cutting-edge players in the world today choose a .strandberg*.