Boden Alex Machacek Edition Red
Boden Alex Machacek Edition Red
Essentially a variation of our Fusion model with the smoother sounding Suhr DSV+ bridge humbucker and DSV neck humbucker pickups with the V60LP single-coil in the middle, the guitar produces a wide range of great clean to saturated lead sounds that Alex described as "transparent, balanced and sweet" – a most apt description of the sonic character we aimed to achieve.
€

2,695.00
(incl.

€

539.00 VAT)
Join the waitlist to be emailed when this product becomes available. Once back in stock it's first come, first serve.
Free EU shipping over €100
The ideal Boden as envisioned by fusion great Alex Machacek
The Boden Fusion 'Alex Machacek Edition'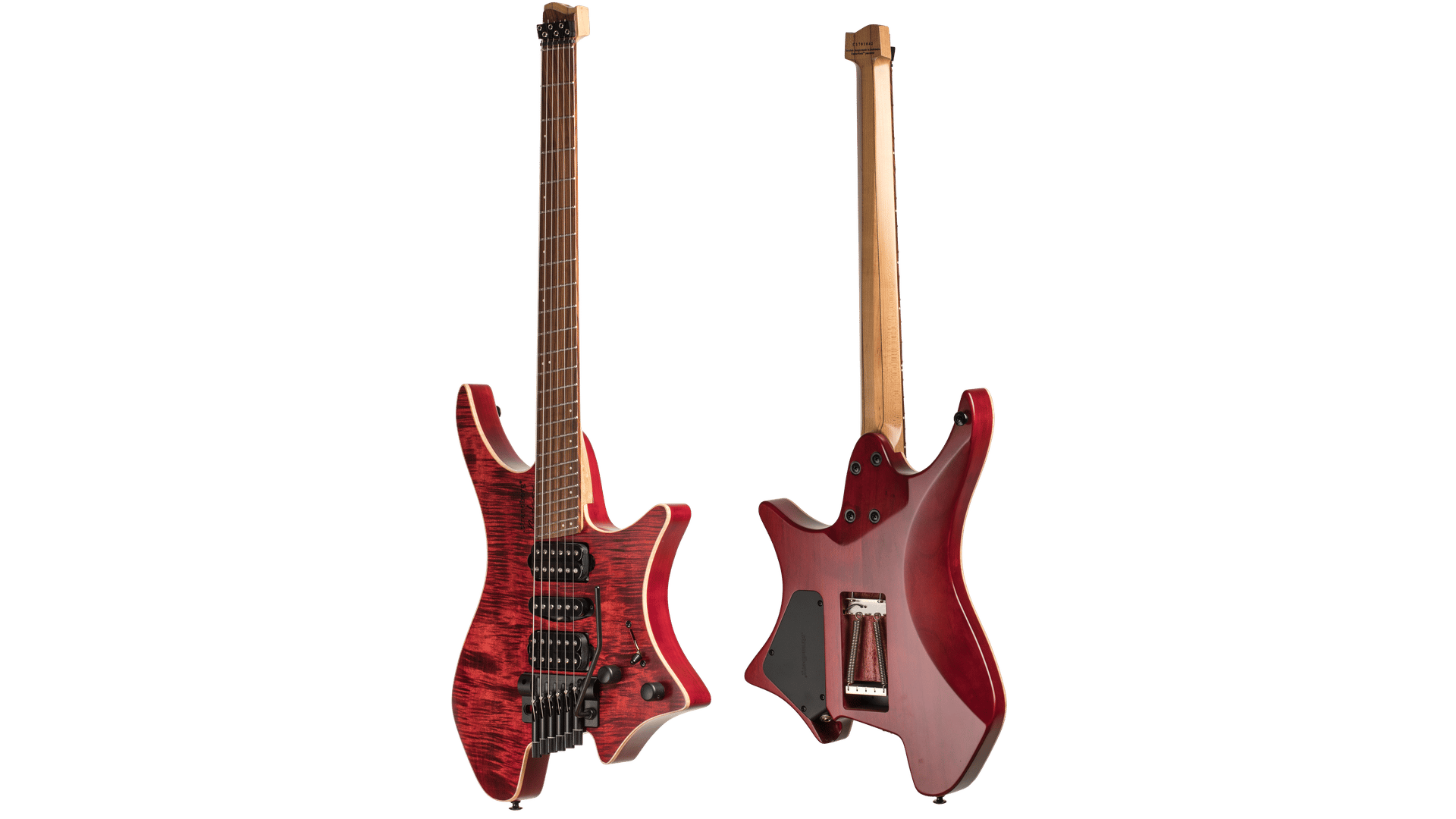 What makes it special?
What does it do?
Who is it for?
Alex Machacek is one of the most respected and versatile guitarists in the jazz-fusion genre today, effortlessly covering extremely advanced chordal soundscapes to some of the most intense improvisations in a small ensemble format. The Austrian-born virtuoso and .strandberg* Guitars collaborated for nearly a year to develop a guitar that will meet the requirements Alex sought in an ideal instrument suited to his innovative style for fusion and jazz as well as prog
Your payment is managed by Klarna Checkout
Check out with only your email and postal code, and pay with the major payment methods including the specific Klarna payment methods.
Klarna offers three payment methods. Pay now, Pay later and Slice it*. This allows you to try before you buy, finance purchases, or make use of other payment options made available by Klarna. Manage all your payments with the Klarna App. Note that the full Klarna Checkout experience is only provided in the local currency. Please make sure to select your country above.
For full information, please visit klarna.com
If you reside outside the European Union, e.g. in Norway, Switzerland, or Iceland, you will be billed local import fees and duties by the shipping company, according to your country's legislation. For more information, see this support article.
* Depending on your location or credit, only Pay Now may be available.
Orders ship from Sweden, which means that within the European Union, there are no additional fees. If you reside outside the European Union, e.g. in Norway, Switzerland, or Iceland, you will be billed local import fees and duties according to your country's legislation. For more information, see this support article.
Delivery of guitars/large items is fast and free* with DHL Express with On Demand Delivery, which lets you monitor and direct your shipment once it is on its way. Smaller items ship with Swedish Postnord.
* Minimum order value of €100 applies
Customer Reviews
Write a Review
Ask a Question
Filter Reviews:
Machachek Edition
return policy
feel
hopes
model
wife
promise
ES 335
team
meaning
28 Jul 2021
Fredrik P.

Sweden
Feel, ergonomics and TONE
This is my third Strandberg guitar and as always I'm floored by the quality and craftmanship. I had very high expectations that were all fulfilled (and then some). The guitar plays, feels and sounds great. Not to mention the stunning looks. If you're looking for a versatile guitar that can cover many genres and styles of music this one is highly recommended! Thank you to Ola and the staff at Strandberg guitars for such nice service and for keeping as inspired as ever, after 30 years of playing! /Fredrik Pihl
29 Jul 2021
.strandberg* Guitars EU
Thank you for your glowing review Fredrik!
21 Jun 2021
Stefan B.

SE
As brilliant as expected!
Had high hopes about the build quality, feel and sound from reading up on the Machachek Edition. Had no possibility to try one (any model) out in advance, but took a chance. Not too scary because of the return policy. Everything was just as good as i expected, or more. It was perfect right out of the box, I didn't even have to tune it... :)
21 Jun 2021
.strandberg* Guitars EU
Thanks for the 5 stars, Stefan! Awesome to hear that the Alex Machacek Edition lived up to you expectations!
12 Apr 2021
Dieter B.

AT
My 1st Strandberg (Alex Machacek Edition)
Very simple: I am really happy! It is amazing that a 2,4 kg guitar competes with my heavy Gibson stuff (L5 + ES 335) easily in the meaning of sound. I purchased the BOden 5 weeks before and since that time I play only my Strandberg! Thank you to you Ola, and your team! Also the purchase handling was perfect and went smoothly. I promised my wife, that this was now my last guitar I buy .. I fear I cannot keep the promise ... because there is a 7-string, an 8 - string, .... ;-)
13 Apr 2021
.strandberg* Guitars EU
Awesome to hear that you are happy with the Machacek model, Dieter! It's an amazingly versatile guitar, but of course it will always only have 6 strings... /Ola
07 Apr 2021
Daniel R.

US
Love Can be Found Anywhere, Even in a Guitar. (Canned Heat)
Opened the box and found the guitar visually striking and flawlessly set up. The guitar has sweet and full tone. The ergonomics are such that I can comfortably play it in my wheelchair. The neck is very well made to promote articulation and expression.
13 Apr 2021
.strandberg* Guitars EU
Thanks for the 5 stars, Daniel! Although I didn't have the wheelchair scenario explicitly in mind when I designed the shape, it has been a very happy finding that it is working out - you are not the first to appreciate this particular feature. I hope it will continue to bring you lots of joy. /Ola
11 Jun 2020
Karim B.

FR
Sweet
It's a great guitar. I own a Fusion Honey and the Fusion Machacek have different sounds. Both guitars are really very very good guitars. I have played several Strandberg guitars (Prog 6, Plini, Fusion, Original 7). With Strandberg guitars I honestly think it's the first time that I can really ear the woods impact on sound. Regards, Karim
15 Jun 2020
.strandberg* Guitars EU
Thanks for the great review, Karim! We totally agree about hearing the characteristics of the materials acoustically, and also how they resonate and _feel_ when you play - which is intended to make you a more inspired player.
Unique Qualities
Anatomy of a Strandberg
There are many design elements and factors that comprise a .strandberg* guitar. Each aspect - from the materials and components used to the ergonomic design features - has been carefully thought out and implemented to produce a guitar that is light weight, easy to play and has a big woody organic sound. Explore these different aspects that set a .strandberg* guitar apart from the rest.
Artist Profiles
What our artist say
The extremely talented artists who play .strandberg* guitars have a clear vision of where they want to take their art and how to get there with the instruments they play. The guitar they choose to play is a statement of who they are as an artist and a reflection of the music they create. Find out why some of the most cutting-edge players in the world today choose a .strandberg*.