As we closed out Season 3 of SPARK, we had the pleasure of raffling off some amazing prizes to a handful of lucky participants. Ultimately, only a few names could be drawn at the end of the Season, but we were continuously blown away by the countless submissions over the past few months.
Receiving multiple tab books and picks from Sheet Happens Publishing, agate stone picks and pick wallets from Stone Age Guitar Picks, and of course, a Boden Plini Edition Neck-Thru guitar, the official winners of Spark Season 3 are…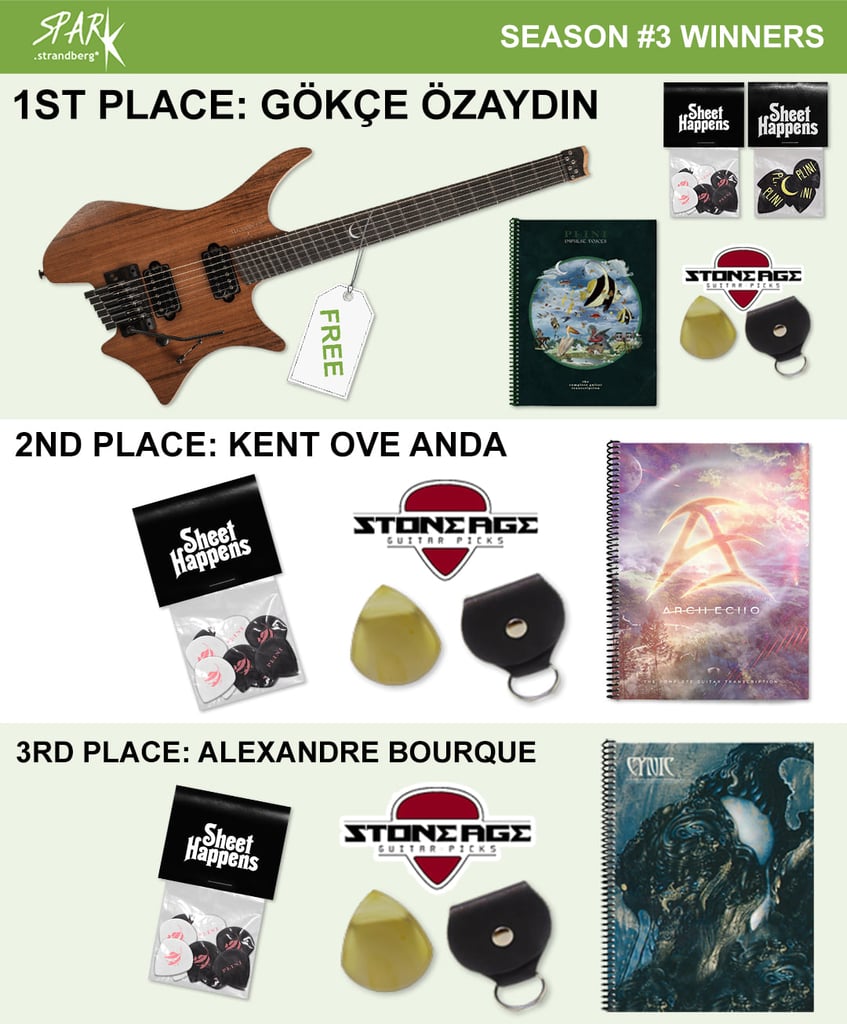 Congratulations to Gökçe Özaydın, Kent Ove Anda, and Alexandre Bourque! You can see some of our favorite submissions throughout the course of Season 3 here.
And now, onward and upward to Season 4!

THE TOPICS
#thePerfectBerg
What would your perfect .strandberg* guitar look like? Or what would it be equipped with? Carbon, double-neck, Burns Tri Sonic pickups? Anything is possible.
OR
#extendedRange
When the name .strandberg* is mentioned in the context of extended-range guitars, no one is surprised. But what does extended range mean to you?
THE RULES
Spark Season 4 is running from September 6th to November 28th
In terms of the submissions this time around, we have made some slight changes to the entry rules. We asked you and you decided: quality over quantity. In Season 4, each participant may only submit one entry per topic. Take your time and perfect your artwork. (Bonus Tip: You have improved your masterpiece a little bit after your post or would you rather post something else? Just let us know. The last content you post will be used for scoring.)
THE PRIZES
The grand prize for Season 4 is a mysterious .strandberg* guitar + a lesson from a secret guest star, both to be revealed at a later date!
Another change in Season 4, the follow-up prizes will now be awarded to the first 3 places in the leaderboard at the end of the Season. All the more reason to perfect your submissions!
As a reminder, if you choose to submit your entries via Instagram, don't forget to tag @strandberg.spark and use hashtag #strandbergspark to ensure your post is registered.
As always, full details and rules of entry can be read over on the .strandberg* Spark Facebook page. Good luck to all of the creatives in this next Season and have an absolute blast!