With Season 4.5 of Spark recently wrapping up, it's time to take a look back at some of our favorite entries for the topics #oddtimes and #happyaccidents! First things first, a quick refresher on the topics at hand.
#oddtimes: Odd times indeed! Write a piece of music in an odd time signature, harmonize with your alarm clock, use polyrhythms to your advantage, etc.!
#happyaccidents: In honor of the great Bob Ross' birthday on October 29th, we're all about celebrating happy little accidents! Turn a mistake into something beautiful!
Denis Sapegin
To kick things off, Denis Sapegin harnessed the power of Bob Ross and painted this incredible "Sky Boden" for the #happyaccidents topic! Using oil paints, he captured the natural beauty of the Boden design in the calming and elegant style of Bob Ross, and we think he knocked it out of the park. And according to Denis, "I have never painted with oil before, but Mr. Ross definitely did my first time relaxing and full of joy." We could stare at this all day (and probably will).
You can view Denis' full submission, see comments, and more on the Spark Community page here.
Danny Tiberius Narciso
Several musical creations were submitted for the #oddtimes subject, the least of which was this wonderful song in 5/4 created by Danny Tiberius Narciso using his new Boden Prog NX 7 Twilight Purple! A really cool and wacky use of an equally cool and wacky time signature. Bonus points for the theramin!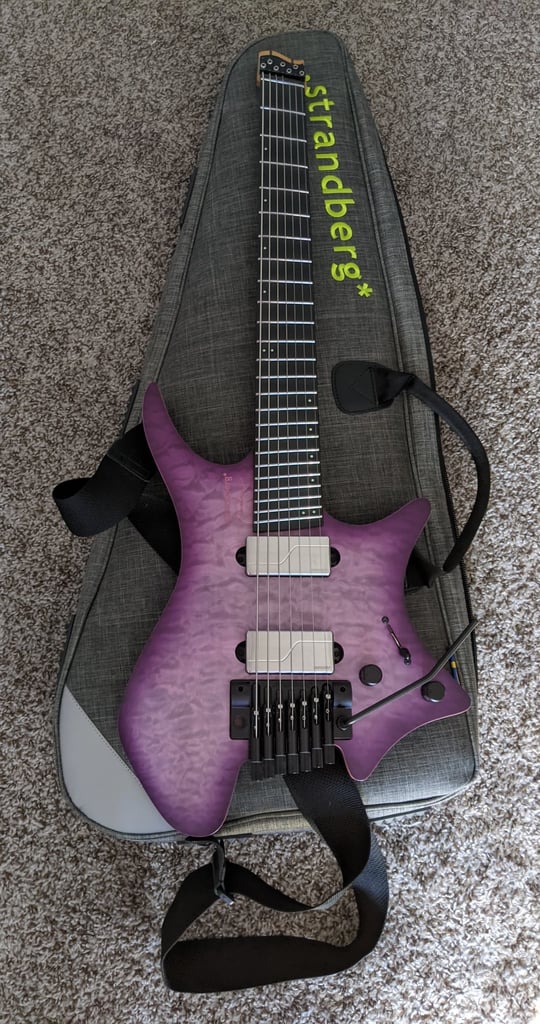 From Danny:
"This song is in 5/4. I'm not very good at actually writing with my guitar, so I set Ableton to 5/4 and listened to Take Five a bunch of times before writing the drums and bass. I'm still inexperienced, but this one is my best song yet."
You can view Danny's full submission, see comments, and more on the Spark Community page here.
Sávio Rocha Almeida
For the #oddtimes topic, Sávio Rocha Almeida created this eyecatching 3D sci-fi-inspired metronome! Taking inspiration from the famous Delorian, Sávio incorporated retro-futuristic elements to create a simultaneously analog and digital piece of gear that we would love to see come to life some day.
From Sávio:
"Delorean Metronome: Subverting the Tempo. Made a mashup with music time and time travel, so that's why I choose to make a Delorean (Back to the Future's car) Metronome, and also Marty Mcfly being a guitar player would be awesome. A Metronome which the BPM could makes him a time traveller. DMC logo, some picks graviting around. The panel shows 11/8, a time signature, and also a date. Music, BPM, time signature in fact can make you travel, a lot of songs give nostalgic feelings and bring memories from the past."
You can view Sávio's full submission, see comments, and more on the Spark Community page here.
Jon Chacko
*strobe warning*
For the #happyaccidents topic, long-time Spark contributor Jon Chacko made a triumphant return to the group by creating this mesmerizing track using tons of glitchy effects, as if the song itself were corrupted. It is indeed glitchy and digitized in a slightly chaotic way, but the underlying pulse of the guitar and electronic elements still make the track feel cohesive in a really beautiful way and marke this one of our favorite submissions for this topic. Nice work all around, Jon!
From Jon:
"Hey friends, this is my first post here in a few years, and it's good to be back! For this tune, I used a lot of effects on my guitar to make it sound like the recording was corrupted and then built a track around using a glitchy drum kit to achieve a maximum amount of glitch. Hope you dig it!
You can view Jon's full submission, see comments, and more on the Spark Community page here.
Kent Ove Anda
Another musical entry for #oddtimes, Kent Ove Anda wrote this explosively-fun song in 11/8. The track ebbs and flows from a pristine clean intro, then into a infectious progressive rock groove, and ending with a momentous swell of highly-emotive chords that definitely made us feel something by the time the track was over. And all this while staying mostly in 11/8 the entire time. Awesome work, Kent!
From Kent:
"Couldn't seem to get the sync on the video and audio 100% on this one. Any tips on doing that is appreciated 😅
I love writing in odd time signatures so this topic was a lot of fun for me. I wrote this little tune throughout the week and recorded and produced it today 😁


Edit: I decided it was probably relevant to write a bit about what i'm doing in terms of time signatures. The intro is in 11/8 counting 3-3-3-2 with an extra bar of 5 (3-2) added at the end.
The next part consists of two rounds of 13/8 (3-3-3-2-2) and then two rounds of 7/8 (3-4) then repeating that.
The next part is in 7/8 (5-2 and then 3-2-2)"
You can view Kent's full submission, see comments, and more on the Spark Community page here.
Jason Hyde
And last but certainly not least, Jason Hyde submitted this Bob Ross-inspired Boden as part of the #happyaccidents topic! Featuring a beautiful tropical mountain landscape enveloped in various hues of purple, Jason did a great job capturing the essence of Bob Ross' soft style here and we're positive Bob would have enjoyed taking a rip on this instrument (AKA "Boden Ross").
From Jason:
"When the Boden shape truly becomes your canvas for creativity. Bob himself surely could have embraced the unique and soothing nature of the organic Boden shape, and would have painted his happy little trees all up on it. 😅"
You can view Jason's full submission, see comments, and more on the Spark Community page here.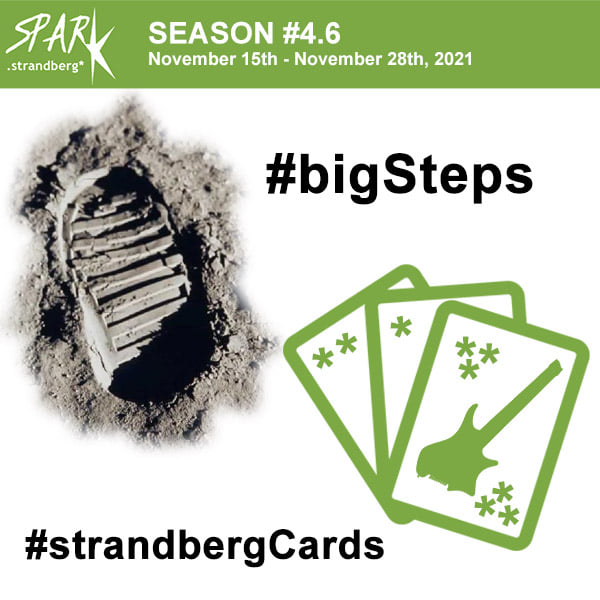 And that concludes our recap of Season 4.5! We hope you enjoyed these entries as much as we did, and don't forget to submit your creations for the latest topics: #bigSteps and #strandbergCards!
.strandberg* SPARK is the official Facebook group of .strandberg* Guitars, dedicated to finding new ways to be creative via prompts that are announced every two weeks. You can learn more about SPARK and join the community here.