During the 4+ years it took to develop the Boden Bass, Ola Strandberg worked closely with pickup designer Carey Nordstrand for his insight and expertise in finding the ideal pickups for the series. Here is a little glimpse into that process and how the electronics helped the Boden Bass flourish into the versatile instrument it is today.  
A very special Thanks to Carey Nordstrand and Sonia Mara-Adame (Nordstrand Marketing Manager) for making this article possible.
How did your relationship with Ola begin? 

Ola's partner Ed called me up. I guess they had been asking around a bit for suggestions for bass pickups and our name kept coming up. Ed runs their US distribution out of a warehouse in Riverside which is right down the highway from us. So it was easy to work on development, because we're so close. They gave us a few basses to with which to experiment. One which had extra large routs so we could play with placement to make sure we got them in the optimal positions. We also added an extra control hole so we could put a passive tone pot on the bass in addition to our standard 3 band preamp. 
How did you help decide which pickups were going into the basses?

Originally they tried a NPJ4SE set in a 4 string prototype. But that's what we suggested based on not really knowing what they were going for or what the bass was even going to look like. Once I got a sense of what they were going for I recommended soapbar shaped pickups so we'd have more options to play with. We tried some Big Blades, but they really wanted hum canceling pickups. Turns out the timing was perfect as we were developing the Zen Blade at the time. The Zen Blades are a hum canceling version of our Big Blade pickups done in a sidewinder style so that's where we went. Those paired with our 3 band preamp (3B-5b) make for an extremely balance and versatile bass.
"At first blush they may seem a bit out there, but once you plug one in and sit down and start exploring it everything makes perfect sense."
– Carey Nordstand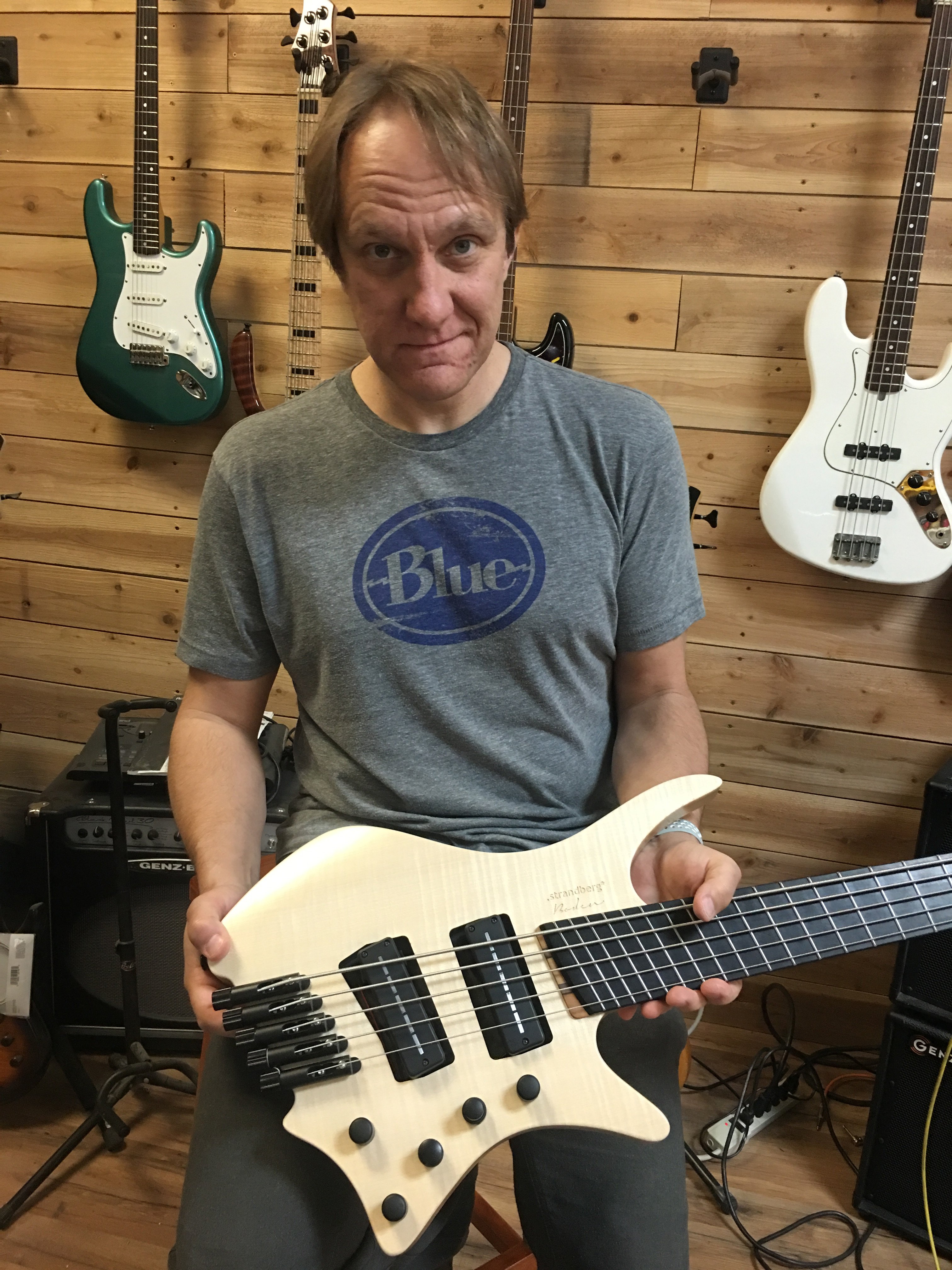 How did you handle the process of testing?
I remember there was a good bit of back and forth, but we felt like they really they trusted us, that we understood the tone they were looking for, and we were going to recommend the right thing.  We've been doing this kind of thing for 16 years now and we have a reputation of knowing bass tone on a level that not many people do. Plus the pickups are where the rubber really hits the road. This is where you can manipulate the quality of the sound of an instrument in all kinds of ways. So if you have an idea of the sound that you want, we have the knowledge to help get you there and further we can let you know if it's even possible. Stew here in our shop is a master of understanding and explaining this process as well and we have a great team here that has tons of relevant talent.
So then there is the Prog model…
On the prog model they wanted something with a more open, deep, modern sound. I thought "well let's try the Big Rigs," because it's the most wide and modern sounding pickup we make but it still has kind of a single-coil character with the offset pole pieces. We tried those and they really dug them. That's how they ended up with two different models. The sound character is distinctive between the two. They ended up pairing the Big Rig pickups with a Darkglass preamp for the Prog's tone.

What do you think of the finished product?
One thing I've learned through the process of working with Ola is that he's kind of a genius. He's extremely thoughtful and his instruments are really well thought out and elegantly designed. At first blush they may seem a bit out there, but once you plug one in and sit down and start exploring it everything makes perfect sense.
From the diminutive lightweight shape to the faceted neck carve it's pretty quick to get used to and the sensible multi scale setup works very very well. But I think the thing that surprised me the most about these basses is how fat and traditionally rooted the tone is. These are not thin sounding overly clean and bright headless basses. They have a tone that seems really centered on a traditional vibe but goes way further because of the built in versatility of the preamps and the pickups we chose.
I'm super happy with how this project turned out and honestly, I can't wait to get my own Boden. I'll probably go with the Original, and I might even decide on a four string. And I have no doubt it'll get a lot of use in my stable.
"They have a tone that seems really centered on a traditional vibe but goes way further because of the built in versatility of the preamps and the pickups we chose."
– Carey Nordstrand